Sand Excavator Simulator Games
6.0.7
Truck Driving Game – Learn to Operate Heavy Machinery
Are you curious about the construction industry? Want to experience how to it feels to drive heavy machinery like excavators and forklifts? If yes, then you will find this truck driving game to your liking. Sand Excavator Simulator Games is an exciting game in which you get to try your hand at operating massive sand excavators and perform a variety of construction tasks. It lets you assume the role of a construction worker that is capable of operating multiple heavy machines including excavators, forklifts, and loading trucks. Your goal in this game is to drive your machine to the construction site and then perform the excavation tasks assigned to you. These tasks can range from excavating sand to transporting rocks and pellets from one area to the other.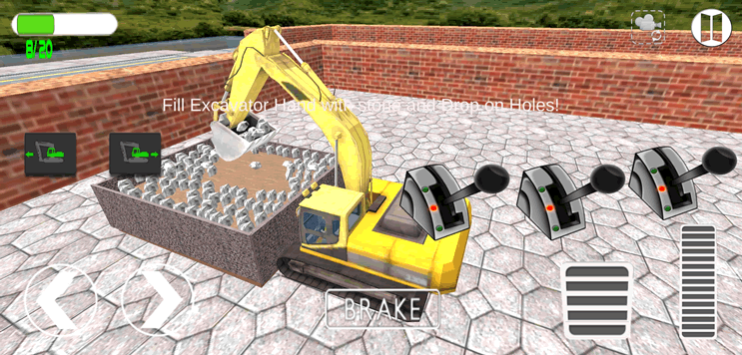 Sand Excavator Simulator Games has smooth gameplay that is well complemented by its intuitive controls. You are offered three different control setups to steer the massive excavators in this truck driving game. These setups include buttons, steering wheel, and tilt. You can choose the control setup you are comfortable with from the settings menu. For each control setup, the location of the buttons would be a little different. For instance, in the buttons and steering wheel setup, the accelerator and the reverse pedals are located on the bottom-right corner of the screen. However, the reverse pedal is shifted to the bottom-left corner of the screen in the tilt setup. The graphics of this simulation game aren't that great but it makes up for it with realistic engine sounds and accurate portrayal of vehicle physics.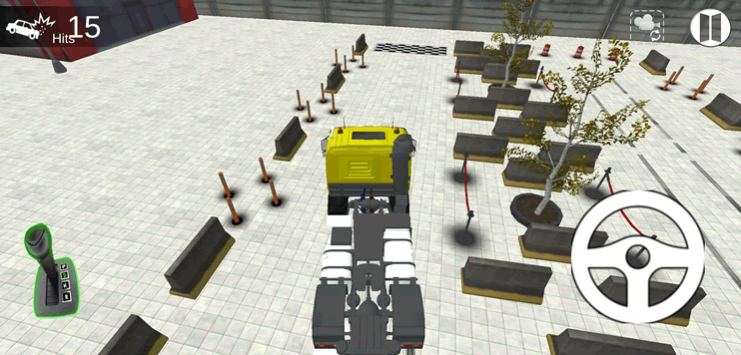 This truck driving game offers a variety of trucks for you to drive. You also get the option to paint the truck in the color of your choice. The new trucks and paint colors can be unlocked by spending in-game currency. You can earn this in-game currency by completing the myriad of missions available in this game. These missions are divided into various game modes. Each game mode in Sand Excavator Simulator Games offers a different challenge to you. For instance, the Offroad Rescue mode provides missions that deal with removing dirt and rocks from the construction site using different heavy machines. The Forklift mode only offers missions related to forklifts while the Classic parking mode tests your truck parking skills with various parking missions.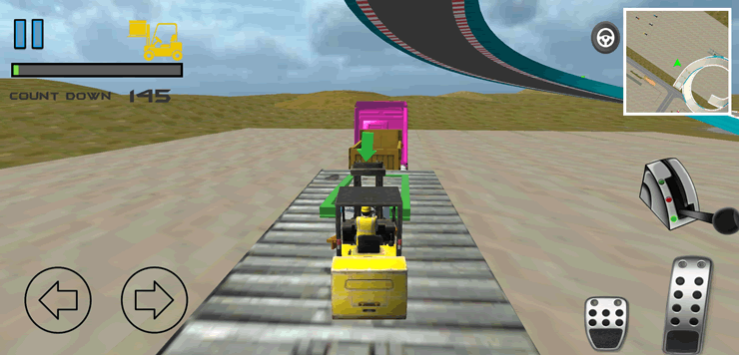 Sand Excavator Simulator Games has a free mode as well. This mode is set in an open world environment. You get to roam around a large city in your truck and take up various missions that pop-up at different locations. Some of the missions require you to race your truck and pass through all the checkpoints within the given time limit while others need you to perform different stunts before the timer runs out. There are missions involving forklifts and excavators as well. These missions are also time constrained and require you to perform the tasks within a set amount of time. Completing these missions earns you in-game currency.
Features:
Multiple game modes
Lots of challenging missions
A wide range of trucks to drive
Paint the trucks in the color of your choice
Operate a variety of heavy machines
Offroad Rescue mode for performing various construction tasks
Hone your truck parking skills in the Classic Parking mode
Free mode for roaming around a large city map
Multiple control setups to choose from
Conclusion:
Sand Excavator Simulator Games is a game for enthusiasts of heavy machinery as well as casual gamers. It allows you to drive and use a variety of heavy machines used in the construction industry like excavators, forklifts, and loading trucks. You are going to enjoy completing the diverse range of missions available in this truck driving game.
RELATED PROGRAMS
Our Recommendations
---
---
---
---